Vestar to develop Buckeye retail center next to proposed Costco, hospitals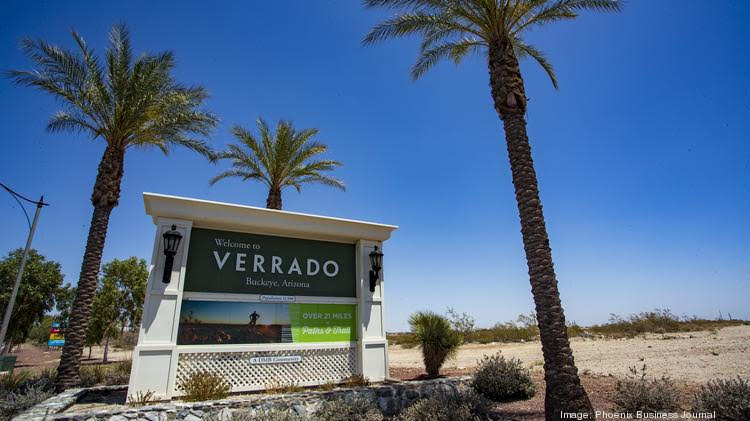 By Angela Gonzales – Senior Reporter, Phoenix Business Journal
Two giant real estate developers will bring a $125 million retail shopping center to what could become the hottest intersection in the West Valley.
Scottsdale-based DMB Associates — the master developer of the 8,800-acre Verrado master-planned community — is partnering with Phoenix-based Vestar — the largest privately-held shopping center developer in the country — to develop a shopping center at Verrado's entrance in Buckeye.
To be called Verrado Marketplace, the retail center at the northeast corner of Interstate 10 and Verrado Way is expected to begin construction by the middle of 2023 and open during the third quarter of 2024, said David Larcher, president and CEO of Vestar.
It will be developed along the lines of Vestar's Desert Ridge Marketplace and Tempe Marketplace, with restaurants, retail and large public outdoor spaces rich in amenities to serve as a gathering spot for surrounding communities, he said.
It's too soon to name tenants, he said.
"We're in the middle of those discussions," Larcher said.
Costco, Banner, Abrazo all ready to build
That entire intersection is poised for huge development, with Costco Wholesale (Nasdaq: COST) submitting plans to build a store at the southeast corner of Verrado Way and I-10, while Phoenix-based Banner Health plans to build a 330,000-square-foot hospital at the northwest corner of Verrado Way and I-10 on 62 acres it bought from DMB for $21 million in 2007.
In December, Tenet Healthcare Corp.'s (NYSE: THC) Abrazo Health paid $9.7 million for a 27-acre parcel at the southwest corner of Verrado Way and I-10 to develop its own medical campus.
"This is going to be the hottest intersection in the Valley — definitely in the West Valley," said Dan Kelly, general manager of Verrado and chief operating officer of DMB.
Verrado, an 8,800-acre master-planned community that began sales in 2004, now has 6,000 homes, but there isn't much retail in the area, Kelly said.
"In the world of real estate, commercial follows rooftops," he said. "It frustrates residents, they get it. Within the last five years, Verrado has sold more homes than the previous 13 years. The center of growth in the Valley has shifted to the west, and the southwest in particular. Buckeye is the fastest growing city in the country."
The area has been underserved not only by commercial retail but probably underserved by quality commercial retail, Kelly said.
"This is an opportunity to bring something that matches the quality and thoughtfulness that Verrado is," he said.
'In the heart of growth'
Larcher said he had identified this site several years ago for a signature Vestar development.
"We based that on geographically where it's located in the heart of growth for Buckeye as well as the fact that the extraordinarily high quality development DMB has created at Verrado is the perfect type of location and perfect type of partner we like to have on a signature project like this," Larcher said.
This is Vestar's first project in the West Valley since developing a traditional big box center at Interstate 10 and Watson Road, which Vestar sold in 2013, said Jeffrey Axtell, executive vice president and regional manager for Vestar.
The time has come for this project, he said.
"We've spent a lot of time with the economic development folks with the city of Buckeye and they have over 100,000 people in their town now and very little retail," Axtell said. "Buckeye has grown so much in the past 10 years, yet no new stores have been added."
The new retail center not only brings out the next stage and maturity of Verrado, but will serve the surrounding Buckeye area, Kelly said.
"The time is right," he said. "Vestar is a great partner for us. They are experienced, successful and stewards of their projects. They keep their projects in top shape."
Continued strong housing activity
Verrado has been the No. 1 selling master-planned community in the Phoenix area for the past couple of years, Kelly said.
"The explosion of employment and the continued strong housing growth in the West Valley is really what has driven the timing of this," he said.
Based upon an examination of new housing activity in a 5-mile radius of that intersection, RL Brown Housing Reports found activity by 29 homebuilders and 91 active subdivisions over the last 12 months, said Jim Daniel, president of the market housing research firm.
"These homebuilders generated a total of 2,454 new home permits and 2,138 recorded escrow closings during those 12 months," he said. "Permit activity was the highest last month in that area in the last 12 months, while new home closing activity has remained on a strong pace."
Within the five-mile area of that intersection, there are 1,574 available lots, with new home closing prices ranging between $236,002 to $1.35 million, Daniel said.
"Land and lot sales activity in the five-mile area was also robust over the last 12 months, with 134 land sales tallied for production housing and 292 custom home lots recorded, suggesting that the builders active in the area anticipate continued strong market activity," Daniel said.